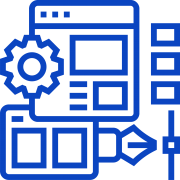 With the ACS Rapid Response Program (RRP), our customers are able to reduce downtime with Control Systems maintenance and Emergency on-call services. The RRP is available with different plan options catered to fit what each customer values the most. After the initial installment of your system, our team will provide support based on the maintenance plan you choose. With every plan comes the 24/7 emergency tech support. We know that system breaks, failures, and issues aren't planned. That's why ACS goes above and beyond to stay in communication with our customers in emergencies. 
The Primary plan provides customers with priority response and technical support. This includes 24/7 emergency support, and a guaranteed qualified and trained responder in an emergency. 
The Premium plan includes level 1 support in addition to scheduled maintenance. This includes off-site PLC & HMI backups as well as annual on-site inspection, cleaning, and certification of the primary controls.
The Platinum plan includes levels 1 & 2 as well as prepaid support. This includes consulting, engineering, troubleshooting and repair amongst other services. Additional monthly hours can be customized to the client's needs. 
The Diamond Plan includes all levels of service. It also provides end to end coverage of IT infrastructure, workstation/server maintenance and replacement, software upgrades, and more.
Our team is here to help and provide answers in any way they can. Don't hesitate to reach out and ask questions, and we'll get back to you with a budget analysis.